Winds of Change (2017)
————————
On our return to Antalya on the 28th April, we were alarmed to be told by EasyJet that passengers would not be allowed carry-on IT equipment on their return to the U.K. other than a smartphone. Our first thought was whether one would ever see their checked-in computers again until the further thought struck us, as to why one would board an aircraft on which the U.K. CAA considered there was a serious risk of terrorism !
In Kemer we came across several European yachtsmen who had similar concerns. However, we were fond of Kemer Marina and its ways and were reticent to jump to a hasty conclusion. Following the usual 10 days recommission, we slipped our lines on the 9th May, for the 16 miles sail to Cerveviz feeling good to be back at sea. Next day we lost no time in exiting Antalya Bay to make across Finike Bay for the cold fresh water springs anchorage of Gokkoya, a sail of 44 miles in a freshening SW4/5 wind requiring a reefed main and jib by the end of the day. This placed us in easy reach of Kastellorizon and Kas marina. A total run for the day of 30 miles.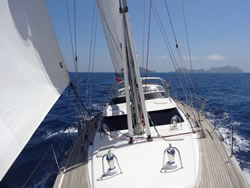 Kas is a favourite port of call with its ancient Greek architecture and excellent marina facilities. The marina however, seemed short of its normal complement of yachts. We were to discover that a large number of German and Dutch yachts had departed with no intention of returning to Turkey. As you can imagine, coming on top of our Kemer findings, we wondered whether we should take another look at our plans and start researching Greek lay-up yards.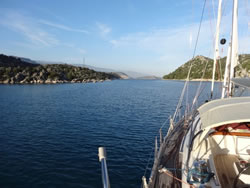 On the 18th May we set sail in a S4 on a rare reach pass the Seven Capes for Gocek; one is normally confronted with head winds and what with that and the turbulent waters off the Seven Capes, makes for a tiresome 57 miles sail. However, not on this occasion and we were well satisfied with our day by the time we anchored in Round Bay. We stayed at anchor next day in a NW gale followed by a night of violent thunder storms with fork and sheet lightening illuminating the night sky. As soon as the weather cleared we made for Gocek marina with its excellent services, shops and chandleries. Having provisioned for a week, we set sail for the 50 miles sail to Symi but on exiting Fethye Bay were instructed by Turkish Coastguards to make for Ekincik to the east of Marmaris, and anchor until 1500 to allow the Turkish Navy to expedite naval exercises. This was a real 'pain in the proverbial' but we dutifully followed their command and rescheduled our plans to anchor that night in the quiet anchorage of Kumla Buku to the S. of Marmaris. A run of 64 miles for the day in a light SW wind.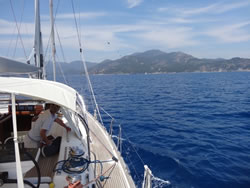 The original plan was completed next day with a 33 miles sail down to Pedi, Symi in a cold S5 with grey skies and thunder storms. So far the weather had been unsettled with rain and thunder storms every other day. We took 3 days out to relax in Symi before sailing to Knidos laying some 31 miles NW. The port is an ancient Roman town with an amphitheater being its major attraction. After a peaceful night on anchor, we reached north over 23 miles in a W4, to pass Kos and anchor off Ak Yarlar, just west of Bodrum. There is not much to say for the place other than it does provide good shelter in all but SE winds.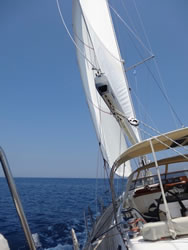 We lost no time in setting off next morning for Leros to check out Marina-Evros. The bleak weather continued and with grey skies and fickle wind we covered the 32 miles sail to the marina with its large complement of German, Dutch and French yachts. This prompted us to enquire into their lay-up facilities. We also decided to hire a car to check out two other lay-up yards in the north of the island only to find that Marina-Evros would be better for us. The issue though, was that with our laying up early August we would be right in the path of the Meltemis !  By this time we had come to the conclusion that we would opt for a Greek Yard next winter. We contacted our good friends Murray & Lyn McPhail in NZ who had laid up in the Peloponnese for several years. They had no hesitation in recommending Basimakopoulos Yard in Koiladha.
With this in mind, we continued on the 30th May over the 22 miles, on a fine reach north for Grikou, Patmos. A delightful quiet and sheltered anchorage just ten minutes taxi ride from the main town. The port provides visitors mooring buoys but we prefer to anchor. Two days later we were underway in a NW3 reach over the 33 miles to Pythogorion, Samos, the NE tip of which lays only 500 metres off Turkey. The harbour is well protected but we anchored outside under the lee of the outer arm. Restaurants surround the inner harbour with good shopping provisions in the back streets. With the continuing fine weather and fair winds though, we decided to return to Patmos to enjoy a 33 miles NW4 reach before setting forth following day over the 34 miles to O. Alinda on the east of Leros.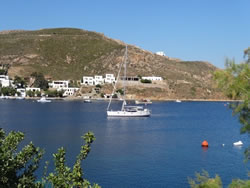 The saying goes that there are happy sailors and sailors with generators. We found ourselves in the latter camp and made arrangements to sail across to Didim, Turkey to have ours sorted out. On the 4th June, we set sail in a continuing NW4 on a 26 miles reach to source out the marina's highly professional services. The port is a haven for super motor yachts and we rightly concluded that they would be the most capable in resolving our problem. Three days later, we were underway in the 'happy sailor' camp with a sweet running generator. We made for Grikou, Patmos on a 39 miles fine reach with the view of continuing west next morning over the 76 miles to O. Plaster, Paros. However, the weather turned miserable with 25/30 knots NW wind with heavy rain and threatening thunder storms. It wasn't suppose to be like that but as we have come to learn, the weather forecasting in the Aegean is more unreliable than most of the large scale charts of the Aegean island anchorages; we refer to them as 'artistic impression'!  Two metre, short seas kicked up on our prevailing passage, just to add to the misery; not helpful when hard to weather.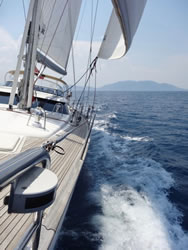 We sheltered off the church in the north of O. Ay Ioannou, Paros for 4 days to allow the poor weather to pass. The upside to this was that we were able to enjoy Naoussu, a delightful Greek town with its white washed houses and narrow streets, all kept immaculately clean. On the 13th June, we set sail for O. Koutala, Serifos in a N/NW 5 over the 45 miles at a 'cracking' 9-10 knots to enjoy one of the best sails of the season. In the evening though, we were lambasted with violent katabatic  winds bowling down the mountain. This is not unusual in the lee of any Aegean island but providing one is well dug in with if available, a gale sail run up the backstay, doesn't present a problem.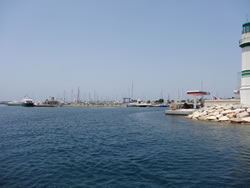 Following morning, we made for O. Apokriosis, Kythnos with a boring 24 miles motor sail in a calm glassy sea. The merit of this was to best position ourselves for a 48 miles reach in N3/4 for Neorio, Poros; a popular resort for both yachties and tourists. The main town affords good facilities for provisioning and evening entertainment. Our sights however, were focussed on Koiladha to establish whether Basimakopoulos Boatyard would be suitable for our winter lay up. On the 20th June, we departed Poros via the narrow south channel to make for Hydra then west to Spetses and finally north, to complete the 43 miles to Koiladha. The anchorage is shaol and we felt uncomfortable in a mere 4 metres. Next morning we visited the Yard to find a large well run laying up facility with a 120 tonnes lifting crane. The yard hosts 350 yachts with good spacing between each boat; technical work is subcontracted to a comprehensive range of specialists. We  decided to commit ourselves as in any event, we were not returning to Turkey.
To our surprise Murray & Lyn McPhail sailed into Koiladha on their HR54 Birgitta and very kindly invited us to dine aboard with their N.Z. guests; a wonderful evening, reminiscent of being home in Queenstown. On the 23rd June, we set south to Spetses to sail through a regatta of classic racing yachts to complete the 35 miles to Kapara Bay, just west of Ermione. It is beautifully peaceful and surrounded by glorious Peloponnese countryside. Ermione is another popular tourist destination, our only issue is that it becomes over subscribed with visiting yachts. We overcome this by motoring round to the harbour at 1030 after the fleet has put to sea. One can then relax in peace before returning to our previous anchorage in the evening which is only a mile away.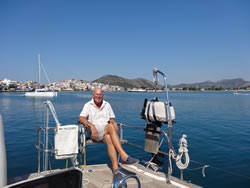 A couple of days later we set sail for a beat to weather pass Hydra to then make north for the remainder of the 30 miles passage to Poros. This time we anchored off the town at the back of the fleet which has since become our favored anchorage. It overcomes the frustration of redirecting mainly charter yachts, from anchoring on top of us and also provides an easy dinghy ride to the town. Next day we made for Sounio, east of Athens with its ancient temple of Poseidon. With a helpful SE3 we brought the wind forward of the beam to make the 35 miles in 5 hours. Following day in calm weather, we motored around Cape Sounion to the Olympic Marina, Lavrion to top up our diesel and return to Sounio for another night. Following morning we set sail for Loutra, E. Kythnos to anchor in O. Loutron but try as we did, we couldn't make the anchor hold. Not wishing to tie stern-to the harbour like sardines, we reset our sails for Fenika on the west coast of Siros with a total run for the day of 57 miles.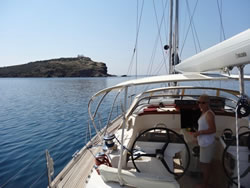 For an offshore island, Siros has good provisions with some delightful restaurants and coffee shops. After a day ashore, we weighed anchor for a gentle sail over 21 miles to O.Plastira, Paros to anchor once more off the boatyard with its nearby church and ferry services across the bay to Naoussa. In view of our earlier visit, we left next morning for an exhilarating reach in a N4/5 over 45 miles to O. Koutala, Serifos. Following another night of katabatic  winds, we weighed anchor for O. Apokriosis, Kyhnos to meet with Murray and Lyn McPhail for sundowners and a meal at the local Taverna. The forecast next day was for 10/15 knots of N. wind followed the following day, by a strong Meltemi gale. We decided to make for Epidhavros and beat the weather with an early start. However as is often the case in the Aegean, the forecasters had miscalculated the timing and we were confronted with a W5/6 necessitating either a hard beat to weather or a fine reach to Hydra; we opted for the latter which was fortunate as by midday we were hit with a full gale and short, steep 2 metre seas. In the midst of this, we were faced with two 30 knot fast ferries Hellenic Highspeed and Speedrunner 3, rapidly closing us on a collision course. It took until one mile off for the former to respond to my VHF16 calls and by the time that issue was resolved, we had Speedrunner 3 not a mile off careering straight for us at 30 knots. Urgent calls to this ferry met with no response, unfortunately neither its name nor MMSI number appeared on our AIS. However, it corrected course and passed under our stern without communication. As I have previously mentioned, only the ocean going merchant navy can be totally relied upon to communicate in good time and make their intentions clear. The rest regrettably, display little respect for the yachtsman particularly the ferries who convey a feeling that us amateurs 'playing' at sailors on 'their patch' are a nuisance which shouldn't have to be tolerated by professionals such as themselves, going about their duties. I don't think that they would run a yacht down but on the other hand, I do believe that they feel a little 'roughing up' with some close encounters teaches us to stand clear of them, regardless of circumstances and maritime law so that they need not be inconvenience by having to make a course correction !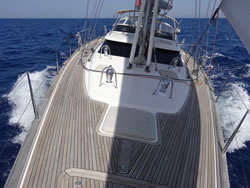 On this occasion the incident was so threatening and avoidable that I felt compelled to take the matter up with the ferries's management.
We continued in short, two metre seas with 36 knot wind on the nose with severely reefed main and jib, making 9 knots SOG for Hydra; once under the lee of the island the conditions changed like a 'flick of a switch'. We bore away for Spetses where on running up its sound between the island and mainland, we were closed down by a 100 feet motor cruiser on our port quarter. Convinced that the motor yacht would correct its course to pass safely to weather, I did not become alarmed until I realized it was on auto helm with nobody on watch. To avoid a collision we crash gybed whilst the motor yacht continued on its course across our bow! The fact of the matter is that most of the motor yachts in the Aegean are commanded by people with too much money and too little ability; to them the sea is an extension to the motorway and the motor yacht a substitute for their high powered cars. What with the ferries, motor yachts and holiday charterers, the Aegean Sea has become a nightmare in high season and makes a mockery of the rules and regulations. Anybody with a driving license can charter a boat if they have the money and sign up to confirm they are a competent boat handler !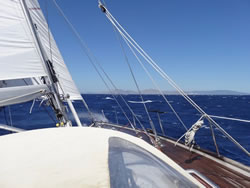 Anyway, we continued under Simbo Rig to complete our 72 miles sail to Koiladha. A couple of days later though, who should enter the harbour but the wayward motor yacht! Jan and I, wasted no time in jumping in our dinghy to have it out with the skipper; his response was that he had everything under control and that in any event he would have avoided a collision by putting his yacht into reverse; when asked why he didn't make a course correction he said that we need to realize that that would have been a difficult undertaking !!! I am NOT exaggerating. Having made our views known to the skipper and his crew, we did come away with a bottle of Moet & Chandon from the owner with his profound apologies. Better than nothing I suppose, but let me say that this was far from a rare experience. We have to stand constant guard and treat all vessels with grave reservation until proven otherwise.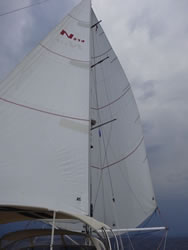 Whilst laying at anchor for 4 days awaiting a Meltemi to pass, we came to know Koiladha well. It's a small fishing village far from the tourist trail with a regular flow of visiting yachts. There are a couple of good restaurants, adequate provisions and coffee shops/bars where one can experience Greece as it used to be; little has changed over the last 70 years. We like this, as we are well past the party animals era and in any event we are not on holiday, this is our residence during the Summer months. On the 8th July, we set sail for O. Kapari by Ermione with a pleasant S3 which we increased to 14/15 knots with apparent wind to achieve 7-8 knots in a comparative flat sea, perfect!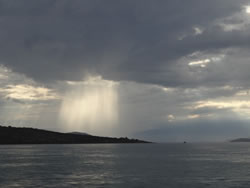 Next day with a NE4/5 we beat down the Hydra Sound to meet with another ferry incident necessitating it to execute a last minute 90 degree course correction to pass under our stern. All so unnecessary and easily avoidable ! Once again I despatched an email of complaint to the owners which to their credit, responded apologetically and advised that they would be speaking with their captains. We continued down the sound to bear away north for Poros. A total run for the day of 27 miles.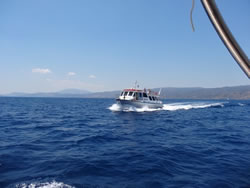 Following a day ashore, we set sail on the 11th July for a light wind sail over 24 miles up the peninsular of  Khersonisos to make west for Epidhavros on the Peloponnese coast. This is a favorite port of call with good restaurants, cafes and provisions. A demerit is the limited anchorage brought about by the vast cordoned off swimming area. Two days later, we returned to Poros. Our change of venue to a Greek lay-up yard had placed us in a cleft stick. The Meltemi season was upon us, every other day a new storm blew out of the Bosphorus. We decided to forgo sailing back into the midst of the Aegean and put ourselves under pressure, bearing in mind the forthcoming lay-up in Koiladha. This was going to require us to handle all the big jobs i.e. washing and stowing sails, servicing engine/generator, watermaker, washing halyards/sheets, cleaning winches/windlass etc etc, afloat, to leave just the freshwater wash-out of engines, AC etc together with boat cover and hull waxing after lift out. Quite a different matter to being in the sheltered Kemer marina, away from the Meltemis with a quay for a worktop!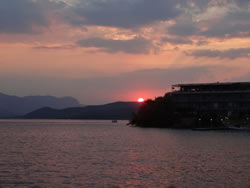 Our return to Poros was in two halves with the passage to Khersonisos  peninsular requiring a motor sail. Once round the headland we picked up a helpful SE3 to tack south in 10/14 knots apparent wind. Once again we were beset by a plethora of ferries, however the only issue came from a charter boat sporting a Norwegian flag in its halyard which motored directly at us at 7 knots without making any attempt to adjust its course. My 5 blast signals were to no avail until 75 metres off when the male helmsman made a frantic 90 degrees course correction to pass down our weather side and around our stern. When asked why he handn't corrected his course earlier, all I received was an 'F/O' response accompanied by the 'two finger' sign, much to the giggling delight of his bikini clad 'dolly rockers' clustered in the cockpit ! I reported this totally unacceptable behavior and avoidable incident to the charter company whom I am pleased to say, replied that any irresponsible behavior by their charterers was a very serious matter that would be taken up with the charterer.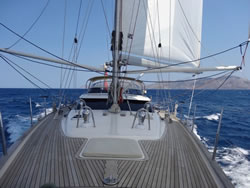 As we felt we had done Poros for the season, we got underway next morning for O. Kapari, Ermione which turned into another memorable sail. On exiting via the south channel, we were met with a brisk SE5/6 reach down to the Hydra followed by a 20 miles run up the sound under Simbo Rig with 20/25 knots under our stern and 10 knots SOG. Because of the simplicity and ease of handling of this rig, we were able to hold full sail right up to the entrance to Ermione Harbour entrance before calmly bearing onto a reach to allow the weather jib to fly to leeward without any flogging sails or anxiety, to make for the anchorage. It is truly, the ultimate cruising yachtsman's rig. The problem is that most yachties are fixated with the genoa come slutter rig. I will never understand their rationale. If is brought about by a concerned of slight loss of drive on a broad reach in light winds, then simply supplement the Simbo Rig with a top-down furling Code Zero and one should be as competitive as any comparable club racing yacht but without the stress levels!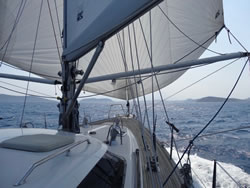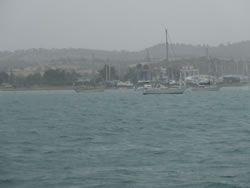 The 16th July heralded the conclusion of our season with a 27 miles sail in SE3/4 with a reach to Spetses followed by a Simbo Rig run up the Argolikos Gulf to Koiladha with a total Log reading of 1205 miles.                   
Now the work began !
Click on any photo to start the slide show below or to view larger versions