Voyage of Discovery - 2013
Despite having sailed deep sea for over sixty years and cruised the north west coasts of Europe extensively, my passages have never taken me into the Mediterranean. The previous year we had sailed Song of the Ocean across to Spain from the Caribbean and in so doing had been given a slight insight into what lay in store but it was this season that was to decide our plans for the years ahead. To stay or not to stay, that would be the question.
We returned to San Carles May 2013 to find that the boat had faired the winter well.  Our lines were slipped on the 23rd to make for Mallorca in a NW 4, exactly what was required for the first sail of the season. Despite the decades of sailing, it still takes me a few days to knock the sand out of my boots and slip back into maritime life. We settled for the quiet anchorage of Cala Blanca sure in the knowledge that following the twelve hour passage we would sort out a marina next morning. What a surprise we had when trawling through the plethora of options, that no berths were available. The learning curve!
With persistence, we lucked-out with a berth in Port Adriano and what a gem it turned out to be. The staff were delightful and the facilities excellent. We took advantage of their yard to sort out a number of intricate jobs whilst taking time to tour the island. Away from the fleshpots of mass tourism, Mallorca is a beautiful island full of historic interest and spectacular scenery.
Following an unforeseen return to the Isle of Man, we slipped our lines on the 8th June for another day's sailing, to pass north of the Cabrera islands and up the east coast to Port Petro. We should like to have stayed awhile but with the slippage in schedule, felt compelled to continue next day for the sixty miles passage to Port Mahon, Menorca.  What a sail it turned out to be, in a SW 6 we blasted across under Simbo Rig at full hull speed, occasionally surfing at 13 knots. One of the memorable sails of the season.
Menorca became an instant hit with us. It is small, ingratiating and full of history. We hired a car and drove to Puerto de Fornells, a charming portside village where one could easily while away some time. Next stop was Ciutadella a previous capitol, and then onwards around the beautiful countryside.
The timing of our passage to Sardinia had become challenging as the mistral blowing out of the Golfe du Lion had been particularly virulent and persistent this Spring. A window of opportunity presented itself on the14th June and with a NW 3/4 we set sail for the 190 miles to Alghero. The sea was slight and the visibility good. During the night there was little shipping which added up to the perfect passage. We moored at the Marina di S. Elmo which was convenient to the old city and like so many in the Med. steeped in architectural interest.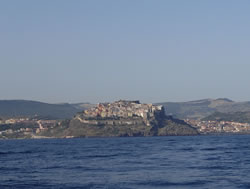 After a couple of days, we made for the anchorage of Porto Conte followed next by a reach up to the Gulf of Bonafacio and on to Castel Sardo. The passage through Passaggio dei Fornelli was tight but quite 'do-able' particularly if one has sailed on the west coast of Scotland or similar. The marina which is run by the local community is also tight, not only on space but depth. Perhaps I should mention that we have to contend with a 2.75 metre draught.
Having wined and dined at the delightful castilian citadel with its charming winding streets dripping in antiquity, we slipped our lines to cross the Straights of Bonifacio for the town of the same name in Corsica. As is the norm for this notorious wind conduit, a challenging NE6 sprang up with the accompanying weathered current to provide an exhilerating 35 miles beat to our destination. A highlight of the passage was crossing courses with S/Y Timoneer whom we know from the Caribbean. An old sailing mate of ours used to be one of her crew.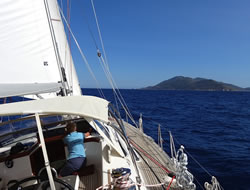 Our arrival at Bonifacio was greeted with the unwelcome news that despite having pre-booked a berth, none was available. This was as a result of a Rotary Club sailing rally having occupied all the available berths. We were put on a 'yet to be commissioned' pontoon on the northern side of the harbour. This had no operational facilities although an appropriate adjustment was made to the rates. In any event we only spent a day at this ancient walled city as bad weather out of the Golfe du Lion was to bring 50 kts. westerly winds. We hastened east down the Straights, to wind our way through the marine reserve inside Ile Cavallo and on to our anchorage in the Baie de Stagnolu, Porto-Veccio. It was a beautiful clear day to provide a run followed by a reach in an optimum W4.
We had been told that in the Med. we needed a large engine and small mast, however we did not find this to be the case and sailed 90% of our season. The 23rd June was to prove the exception though and we were left with motorsailing the 80 miles for the next anchorage in the Golfo di Campo, Elba. On a positive note, the scenery was beautiful and the anchorage peaceful. Next day we made around the island for Portoferraio another historic city full of mystique and of course, the ghost of Napoleon Bonaparte.
Elba was to be our most northerly venue and from here we day sailed down the west coast of Italy taking in the ports of Cala Galera (anchorage), Riva di Traiano, Porto di Roma, Marina di Flavio Gioia, Capri, Positano, Sc. O Della (anchorage), Vibo Valentia marina and onwards to Marina del Nettuno in Sicily. Of particular interest was seeing the cruise liner Costa Concordia, forlornly marooned on the rocks off Isola del Giglio. What a disaster! On a brighter note, we met up with some Kiwi mates in St Peter's Square. On bidding our farewells, I suggested a quick 'pint' at a nearby cafe. Three beers, 64 Euros............ummm, perhaps not such a good idea. Mind you, they were large glasses and as we were told, it could have been icecream!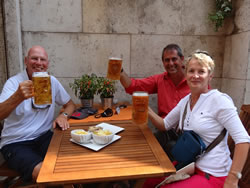 Marina Grande in Capri, was another Italian experience. Two nights, 560 Euros to tie stern to a concrete wall. However, not having been there since a school trip in c1957, I wanted a day to reminisce. Stuck between giant supercruisers we felt captive. Not so, when it came time to leave we were plucked out by the marina launch like a trout from a babbling brook. A few days later whilst making the most of our continuing asymmetric cruise down the Italian coast, we came across the delightful anchorage of Sc. O. Della just south of Palinuro. It isn't a matter of cost but a feeling of independence that always makes anchoring the preferred option.
On the 12th July, we slipped our lines for the 250 miles passage to Cephalonia, Greece. The weather held good in a NW 3/4 to provide a comfortable reach. All would have been well but for a rogue coastal trader transmitting a 'back to front' AIS signal which refused to respond to either our AIS call or Ch.16 requesting note of intentions. Following our avoidance action (right having given way to might!), the ship's master eventually responded by pointing out that as we hadn't collided there hadn't been a problem! Sometimes, I'm left to wonder whether it is only the ocean going merchant ships and sailing yachts who have any respect for the collision regulations.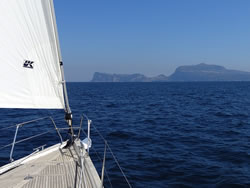 Argostoli was to prove a difficult port for our draught. We might have scraped on to the town moorings with its protection from the prevailing N. wind but didn't have the courage to chance it. Instead, we resorted to anchoring stern to the cruise liner pontoon which is also used by the superyachts. Unfortunately nobody advised us of the wayward chain laying some 75 metres off, until it came time to leave. Firmly stuck under the weight of the chain, I suddenly remembered having acquired a Boxer Marine 'AnchorRescue' system some years before, never previously used. I am delighted to report that it worked exactly as advertised. If you don't carry one then I would strongly recommend it.
We were released without resorting to expensive scuba divers, to sail for the Gulf of Corinth for the retreat of Lord Byron in Mesolongion. A pleasant anchorage but with little to recount for the great poet. The following day we put to sea in 30 knots to beat some 25 miles up the Gulf, gaining permission to pass under the great suspension bridge for the anchorage of Navpaktos. It offers a romantic castilion enclosed marina but unfortunately with insufficient draught for us. We continued east next day in more clement conditions for Galaxidi, a truly 'must visit' village in beautiful surroundings with its relaxing cafes and restaurants. After taking note to stay longer next year, we made for the port of Kiaton in order to place ourselves in pole position for the Canal.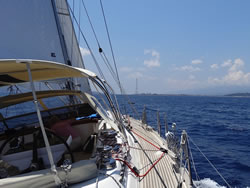 I am told that the Corinth Canal is the most expensive canal per mile in the world. We were charged 360 Euros for the 4 miles transit into the Aegean Sea. The experience is worth every penny. Having settled our dues at the eastern entrance we had a wonderful reach in a NE4 to pass Aigina and Methana for Poros. Here we took a lay day to strengthen our resolve for the Aeolius. Our first baptism in the Aegean Sea, was to come with our 50 miles sail to the anchorage of Fikiadha on Kythnos. In a NE6 and a lively seaway we had the decks awash under reefed main and jib. It pays to respect the meltemi winds and plan accordingly otherwise they'll surely give you a hiding to remember!
The following day we had a more genteel run under simbo rig down to the anchorage at Koutalas, Serifos, some 22 miles off. This was followed by Vathi in Sifnos and Manganari in the south of Ios. All lovely anchorages but  due to a meltemi and 40 knots of wind we were obliged to while away a day in Ios before venturing on a further 55 miles to the delightful anchorage of Analipsi on the south coast of Astipalaia with its beachhead 'picture postcard' restaurants  overlooking the boat. Voila!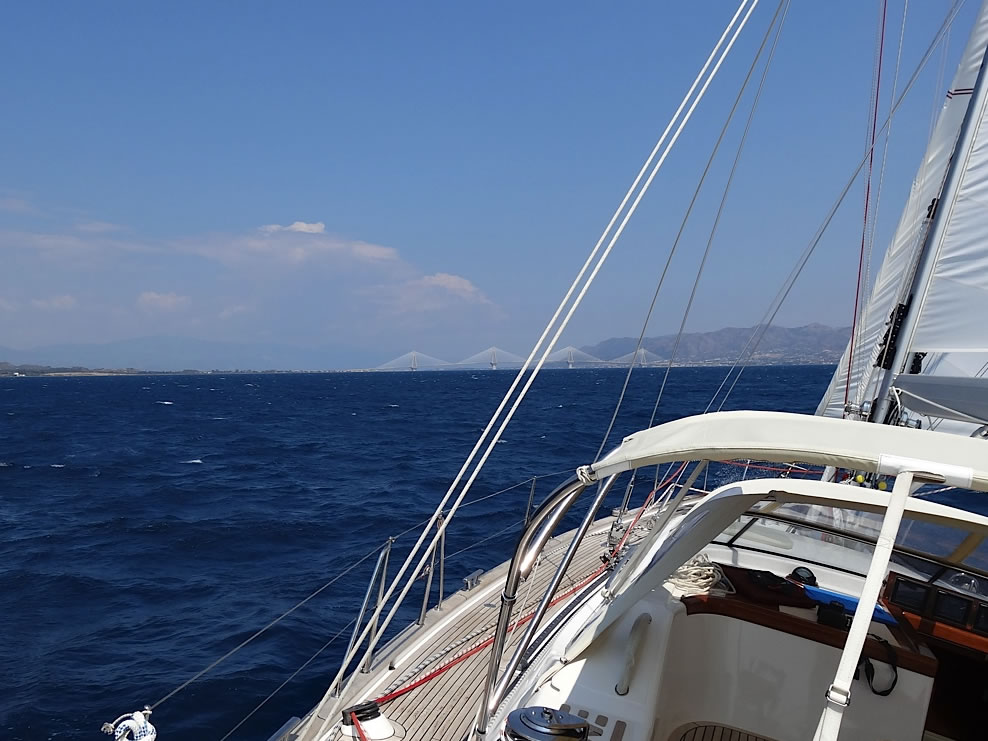 It was now the 30th July so we needed to keep focussed on the mission at hand. Next day in a brisk N5 we reached across the 50 miles to Livadhia inTillos, another place we should like to have lingered longer but we were mindful that we should be returning to all these beautiful islands the following year when time would be at less of a premium, insh'allah! The 30 miles sail to Symi was the end of the Grecian line for us. In a light NE2 with the wind forward of the beam, we pumped the pressure up to a handy force 3 to make good time for the anchorage of Pedi. The island is a veritable crossroad with yachts transiting to and fro from Turkey. We took several days out to indulge in the local culinary delights and also relax in the picturesque town of Simi and its quaint antiquated harbour. A mere 15 minute bus journey from our anchorage and to the madding crowds!
A mere 10 miles sail took us to Bozburan, Turkey, a first class port of entry for forieign 'yachties'. I would particularly recommend the immigration services of Salih of Lodos Yacht Services. He is Turkish/German citizen and a very experienced sailor who has 'swallowed the anchor'. For a mere 30 Euros he made our entry into the country, the epitome of ease. On another note we were delighted to come across our old friends and roving OCC rear commodore David & Sue Baggely on their yacht Kookeburra. They provided us with first class information on sailing in Turkey. We sailed in company with them to Orhaniye for the tot and toast 'a bloody war or sickly season. A bloody war and quick promotion and the Queen, God bless her'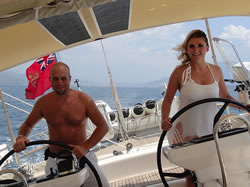 Following our departure, we sailed for Marmaris with an exhilarating run under simbo rig in SW6 up the 25 miles of the Bozburan peninsula. This was followed by Erincik and Fethiye before proceeding across to Goecek with its myriad of offshore anchorages. In one of them, we had the greatest pleasure of meeting with Michael & Chris Burke on their Malo. As a finale to the season, we were joined by my son James and his partner Stacey for a relaxing week's cruise east, along the coast to Kemer. After their return to the UK, the hard work really began in laying the boat up for the winter. I swear I will never complain about the cold weather again!
By the way, following our 2000 miles season, the answer is..... to stay. We loved the Mediterranean experience. Next season we intend sailing up to Croatia; whether or not we return to Turkey will to some extent depend on how the new Greek Government's tax 'raid' on yachts in transit across the Aegean Sea pans out. For yachts over 12m, I understand that one has to pay 100 Euros per boat metre which for us will amount to 1,750 Euros! How unfortunate that the yachting tourists should be targeted in this way when we arrive virtually carbon free, on our own bottoms after which we either buy all our living requirements in from the small local shops or spend our money out at local restaurants, bars, coffee shops, chandleries, boat yards etc etc. without creating any traffic or parking problems. And this is before one considers the cadre of government officers throughout the land whose jobs rely on their being sufficient numbers of visiting yachts to administer. For all these people's sake I hope that their Government's actions don't turn out to be an 'own goal'.