Septennial Passage
(Antigua - Sant Carles marina on the Costa Dorada, Spain. 2012)
Our winter season proved sociable and invigorating.  Swedish friends joined us in Antigua for some boisterous sailing down to Guadaloupe. Iles des Saintes, Dominica and Martinique. Apart from a few docks having been swept away since leaving the Caribbean in c2009, not much had changed ashore with the exception of Rodney Bay Marina which must now rate as one of the best since IGY took command. Concrete docks may be fine for the superyachts but for the rest, nothing compares to floating finger pontoons.
Jan and I, continued down the well trodden path to Grenada taking in the fleshpots of the Grenadines. Unfortunately some imbeciles had previously upset Mick Jagger by invading his privacy which resulted in one being prohibited from walking around Mustique. For Jan and I, this was a major disappointment as the peace and tranquility of the island has no equal in the Caribbean. On a brighter note, Petite St. Vincent had undergone a major renovation under new management and still remains hospitable to visiting yachts. We proceeded down the east coast of
Grenada to La Phare Bleu marina and back up to Rodney Bay where we left the boat for a couple of months to take in 31 days straight, skiing in Aspen followed by a month's serious upcountry hiking in the southern Alps of New Zealand.
On our return to Rodney Bay in April, our daughter Lorna, joined us for another loop around Grenada before heading north to Antigua to prepare for our passage to Europe on the 17th May. For this Jan and I, were joined by George Malony and Bob Williams from the UK. We always travel three up for watch-keeping across the Atlantic but four, what luxury, a veritable cruise liner!  As is common for the time of year, unsettled weather bringing a continuous succession of line squalls with heavy rain lashed Antigua making the decision to slip our lines challenging .
We sailed up the west coasts of Antigua and Barbuda to gain some shelter from the 30-35 knot winds and 4 metre seas. At the height of all this our generator impeller disintegrated, leaving Jan with the awkward task of replacing it in the less than convivial confines of the engine room! Conditions below decks were not inviting what with the lack of fresh air, high humidity and heat, however first the pain and then the gain. After three days of sleepless conditions the wind and sea slowly subsided to allow us to relax on our northerly passage.
We made good progress on a starboard reach. There was little chance of making any worthwhile easting for a week. However, the ship settled into the three men doing four hour day watches with Jan catering for the meals. After the daily ritual at sundown '.........and the Queen God bless her', the watch broke down into the four of us working two hourly watches. This enabled the watch system to rotate forward to give everybody a fair share of the days.
One week on at 26 degrees N, we were able to shape a north easterly course. This had an uplifting affect giving a feeling of completing the first lap. We came across a few trans-Atlantic sailors all with the Azores in their sights. However, we had some reservations as to our destination. U-Grib had been showing a continuous succession of deep Atlantic lows hitting the islands throughout May with no sign of abatement. As many will know, it isn't just the strong weather that is of concern but the fact that yachts pour into Horta without anyone moving on, making mooring at this time of year an issue.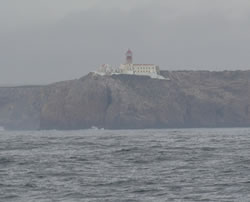 On reaching 32 degrees N, we kept on the southern edge of a train of lows, flying along under Simbo Rig on an easterly course. This kept our options open until 500 miles south of Flores when the decision was struck to make for Portugal. The depression that was then bringing 50 knot winds into the Azores went on to wreak havoc in the British Isles a week later. Although we remained comfortably south of the archipelago, the affects of the weather system were still very much in evidence with confused high seas. One night whilst running under a westerly 6 with a 4 metre NW swell, we were hit by a rogue SW wave which skewed our stern through the wind and caused a spectacular crash gybe, breaking the preventer and bending the boom.
We continued under reefed main and jibs feeling somewhat bruised. Slowly the realisation that our ongoing plans for Turkey had been cast into doubt began to dawn. Interestingly our reefed mainsail didn't have much detrimental affect on our progress and we made Lagos on the Algarve in a couple of hours short of three weeks over 3,292 miles.The damaged boom wasn't our only concern though, as the connection between the rudder drag link and reduction gear box arm had been sounding alarmingly unhealthy and the time now required to source a new boom with Selden gave Lewmar the opportunity to resolve the wayward connection.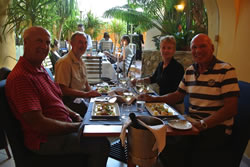 I am pleased to report that both Companies acted admirably in resolving our problems although the boom would take two months to replace as a result of its hydraulic complexities. It should also be mentioned that the Navigators & General Insurance Company handled our claim impeccably in the most efficient and expedient manner. What a delight they were to deal with. We decided to use the time to return to Devon, England to enable Jan to visit her Dad on two separate weeks. As we were about to return from the second week he had a heart attack and died. Of course, this was a shocking experience but on later reflection, we realised how fortunate we had been to have bent the boom. If it hadn't been for that we would have continue on to Turkey with the intention of visiting Jan's Dad after the winter lay up in September. God moves in mysterious ways!

On previous visits to Lagos I have not been able to refill my gas bottles unless I carried Camper Gaz or Spanish gas bottles. Unfortunately, neither the Marina Office or Sopramar Boatyard have been able to help me with this issue. However, on this visit I was able to source a propane gas refilling station in Boliquieme (GPL Algarve C.M. Pedro. GPS position  N 37o 12'.81 ,  W 8o 15'.93   ) which lays between Albufeira and Vilamora, some 200 metres off the N125. From the main road you can see the gas refilling station, it has a large GPL sign. Our bottles were refilled whilst we waited in the same manner as they refilled the gas driven cars. We have Swedish fibre glass bottles which presented no problems whatsoever to Carlos Pedro. The phone number is 289 360 767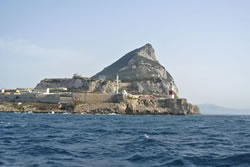 We slipped our lines for Gibraltar on the 10th August and enjoyed a broad reach down to the Straights followed by a breezy run to La Linea de la Concepcion marina. Next day we set off around the Rock making our way up the Costa del Sol for Puerto Banus. The wind held fair enabling us to fly the Simbo Rig which set the pattern for most of our sails along the coasts of Del Sol and Blanca. How fortunate were we, as there is many a sailor who has been obliged to motor most of the 450 miles along this coast to the Costa Dorada.
Overnight stops were made at Benalmadena, Marina del Med. Este Punto de la Mona, Marina Salinas Torrevieja, Marina Greenwich,Marina Denia, America's Cup marina Valencia en route to Sant Carles. Of course, most of the venues are given over to the successful Spanish tourist industry and as a spin off, the yachtsman has been provided with conveniently spaced marinas and facilities for which I am grateful. Of the aforementioned, I would say that Marinas del Med. Este and Greenwich struck us as the most tranquil with Valencia deserving a more in-depth exploration on our return next season. Denia proved the most challenging as a 25 knot wind blew down the marina fairway making our astern-to concrete pontoon mooring whilst droves of typically inconsiderate fishing boats powered in unnecessary bow waves, more than a little challenging for the two of us.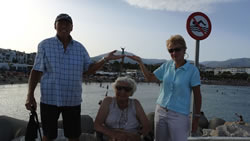 Sant Carles marina on the Costa Dorada, proved an absolute gem. It is run by MDL with proper finger pontoons and excellent facilities, the staff are exceedingly helpful and a delight to deal with. On our way north we had been horrified to find laid up yachts propped up with what can only be described as old orange box crates. Sant Carles I am pleased to say, not only provides linked steel props but also straps the yachts down to their clean concrete hard with webbing at the fore, amidship and aft cleats. Proper job!
As for the town.... well, how refreshing to find a traditional Spanish town devoid of foreign tourists, providing for local Spaniards. I was almost caught off guard by the lack of 'bling', so conditioned had I become on our travels from Gibraltar when I suddenly realised that this was the real Spain and what a pleasure it was to behold. If I was keeping
my boat in Spain I would definitely base her in Sant Carles marina. However, since arriving in Falmouth Harbour Antigua on the 22nd December 2012, we have logged exactly 5000 miles. Our brand new boat commissioned in Sweden on the 1st July 2011 has now logged 11,225 miles in her first season and we look forward to re-commissioning her in May 2013 to make for the Balearics, Corsica, Sicily, the Greek Islands and on to Turkey with time to enjoy it all.
Click on any photo to start the slide show or view larger versions