The Diamond Cruise
Click here to view slide show.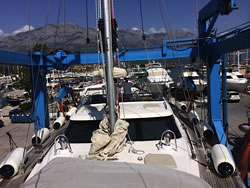 Underway to the lift-in, Kemer
We were delighted on returning to Song of the Ocean on the 4th May, to find her as left. The Kemer yard had been as good as their word in keeping watch and making sure the batteries remained fully charged. Following a 10 days fit-out, we were underway for our shake down sail to Ceveviz looking like a "new penny". The anchorage is one of the most dramatic in Turkey and reminiscent of a Norwegian fjord with its cliffs rising to 500 metres.
Next we made across the Finike Korfezi for Goekkaya where we were delighted to cross tacks with Michael & Christine Buerk's Malo, Summer Song on the Yachting Monthly East Mediterranean rally. We reveled in a light fine reach. Song of the Ocean is particularly adept in these conditions as with fine tuning, she doubled the 6 knots true to a useful 12 knots apparent to make good passage time. The following day with everything working to order, we sailed with a continuing light NW to pass Greece's easterly outpost of Kastellorizon, for Kas marina. This is a new development conveniently placed for old Kas township which was once Greek. This no doubt accounts for some of its delightful architecture.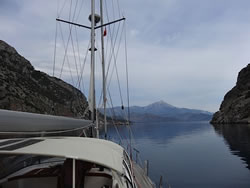 anchored Ceveviz (fjord)
The subsequent leg pass the Seven Capes needs to be undertaken with an eye to the weather as the sea conditions with the backwash off the high cliffs, can create turbulence sometimes referred to as the washing machine effect! However the wheel of fortune continued to shine upon us to give an uneventful passage to Karacaoeren; it comprises a small inlet with a sole taverna. Onwards around the Iblis headland we sailed next day across the Bay of Fethiye for Gocek which many consider to be the epicentre of Turkey's yachting society. Although the marinas have become the haunts of the Russian "nouveau riche" with their extravagant motor yachts, the town is chique and inviting with upmarket provisions, restaurants and shops. We have considered basing Song of the Ocean there with its proximity to Dalaman airport but are deterred by its lee shore lift-out.
We sailed onwards to Ekincik, a large bay open to the south with an interesting marina at the SE entrance called My-Marina. Here you can free berth on the proviso you dine at their restaurant. We decided following a testing beat up from Fethye Bay, to anchor for the night and take advantage of the continuing good forecast for Serce next day. This is another interesting anchorage with its mushroom stem entrance between cliffs leading into a elongated sphere where the options are to anchor in the north with its taverna and mooring buoys or south with its abandoned taverna and grazing cattle. We chose the latter for a peaceful night's sleep.
We had been planning to check out of Turkey at Bozburun which lay 15 miles around the Dalisa Yasak Saha headland and 6 miles east of Symi, Greece. However, on arrival I was disappointed to find that the Turkish government had withdrawn their Customs and immigration offices and that we now had to make for Datca. Although only 20 miles along the coast it by-passes Symi and in addition, normally involves an upwind sail. The anchorage at Bozburun is tight and following a meltemi storm that night we fouled our anchor chain around Gullet anchors. As anybody knows who sail these waters, the Gulletts are a "pain in the proverbial". They pay no attention to the rules of the road other than "right gives way to might" and are a law unto themselves.
Their anchors were dropped some 250 metres from the gullets who sat in 2 metres of water tied stern-to a sheltered harbour wall. Unfortunately, I hadn't a dive tank aboard (since rectified!) and was left to the mercy of the local diver to gain release. Anyway, 250 Euros lighter, we were able to make for Datca in no doubt that we shall not be returning to Bozburan anytime soon. On a brighter note after a good beat to weather in 12 knots of wind, we checked out at Datca through Ahmet of Knidos Yacht Services for a mere 50 Euros.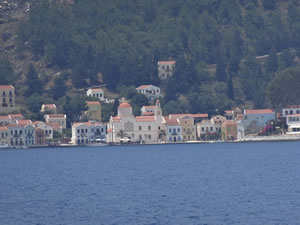 Kastellorizon harbour, Greece
Symi would have to wait for our return. We made for Bueyuek Koy at the bottom of the Datca peninsular; an absolute gem of an anchorage between the mainland and a virtual island connected by an isthmus with attractive tavernas. A great place in Spring which unfortunately suffers from its own success in the height of the season, as is the case with many of the fleshpots around the Aegean's perimeter. Following a breezy beat down the peninsular, our arrival luckily coincided with the departure of the gullets to leave us with the prime anchorage.
This heralded our farewell to Turkey as we reached up to the Island of Kos. The marina is somewhat sterile but functional and having checked in, we made for the Customs to a less than warm welcome. They don't realise that even they have a part to play in digging their country out of economic ruin. On submitting our papers we were advised that we could only be allowed a month in the country as a result of our Jersey registration despite the fact that EU rules allow eighteen. Anyway, after a laborious debate with a mistaken official, we were able to establish our correct status. The part of their attitude that is difficult to comprehend is that the issue had nothing to do with tax so why I wondered, would they go to so much trouble to restrict us to one month's expenditure when we had come to inject three months worth of living and running costs into their economy. Furthermore, this not inconsiderate sum could be doubled if we then laid up in a Greek yard for the winter but I suppose that goes to the very crux of the country's economic woes.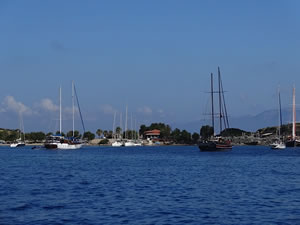 Bueyuek Koy isthmus with taverna
I took a day out to polish the stainless steel including the rod rigging ( at 27.5 m.altitude!) together with hand washing the teak decks, only to emerge the following morning to find everything coated in sand from a Sahara dust storm…... and they wonder why I believe in the "little people"! This continuing unstable air led to a thrash to weather down the SW coast of Kos for Ormos Kamari to an off-beach anchorage sheltered by rocky outcrops from the SW swell. We were in poll position for a breezy reach down to Astipalaia the following day. It is one of our favourite ports of call and away from the madding crowds which is particularly refreshing in high season. It also marks the divide when transiting across the Aegean sea.
This windy spell continued for our reach to the island of Ios, some 50 miles to the west. With reefed main and jib, we sliced through the waves with determination. We had planned to make up the channel between Ios and Sikinos but near gale conditions met our arrival to leave us quite contented to anchor the night in the southern anchorage of Manganari. That evening we were accompanied by the super yacht Liander who after much toil, succeeded in setting their anchor sail; what a difference it made and was a timely reminder that we also carry such a sail which needs to be use.
Respite from three days of strong weather greeted us next morning and with some relief we sailed in gentle seas to the delightfully sheltered harbour of Vathi, Sikinos with its quaint shore-lined Greek restaurants and mini-markets. It's always tempting to while away a day in such an oasis of tranquility but we were on a mission (what's new!) to meet Ian & Judy Jenkins with whom we sailed across the Atlantic in tandem in c2002. Another gentile sail brought us to Koutala, Serofos followed by a 50 miles fine reach to Poros; although its anchorage at Neorion is delightful with a local shop and taverna, it is not as popular as some of the other options. We were now left with just 30 miles to sail for the Corinth to anchor overnight off the slightly dubious looking village of Palaion Kalamakion.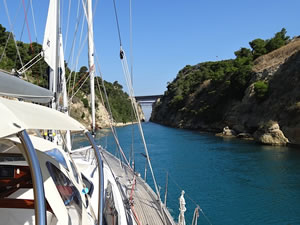 Corinth canal
Having "coughed up" 360 Euros for the Canal transit, we made NW across the Gulf to Galaxidi, a must-visit of a town with good harbourside stern-to moorings and offshore anchorage. It is centred around an imposing hilltop church with a plethora of family run shops and tavernas, all with the time of day to pass. As the intention was to spend a while on our return, we set sail next morning for a beat down to Navrakpas in the Gulf of Patras. This placed us in fine fettle to pass under the spectacular Rion bridge and onwards to Mesolongion. Here there are or should I say were, three options; go into the marina, tie to the town quay or anchor in the spacious harbour. We've always taken the latter option despite some poor holding in parts. Having satisfied ourselves that we were safely secured in company with another dozen yachts, we whiled away the afternoon. On settling down to the evening meal however, the port police made every boat up-anchor and take one of the other options. All very Greek and inconsiderate; I can only presume that a yacht had previously come to grief by not securing its anchor and as a result, in true Greek authoritarian attitude have prohibited all future anchoring by whom in any event, they consider are a bunch of "saturday night sailors". A far as we are concerned we will not return to Mesolongion which has little else to offer the cruising yachtsperson.
Next port of call was Ithica. We set off full of enthusiasm for a gentle reach but soon had our optimism dashed to leave us to motor most of the 40 miles. Our arrival in the Ionian sea quickly introduced the problem of its lack of anchorages. Following on our experience in the Aegean, we hadn't given this much thought but now found that unless one was prepared to anchor stern-to a rock or tree then swinging anchorages were a scarcity. This is further exacerbated by the otherwise sweet local harbours being either too small for our boat or fully occupied with charter boats and tourist traffic.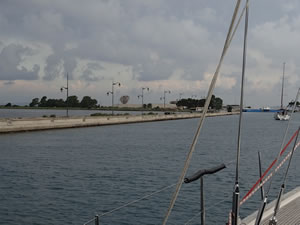 Lefkas canal & swing bridge
We anchored in Dnexia which is a quaint and delightfully unpopular bay near Vathi offering secure holding in all but northwesterly winds. After this it was north to Ormos Vlikho, Lefkas, a gem of an anchorage in a virtually landlocked lagoon. Forego the lure of Tranquil Bay and motor right into the heart of the anchorage, a veritable hurricane hole with good shoreside facilities. We were now placed in good stead for negotiating the Lefkos canal and onwards to Ormos Pargas, another good anchorage set beneath a Norman castle with good facilities.
One final sail up the Corfu channel and we were at Gouvia marina where we were to await our good friends on their Amel 53, PenAzen. En route we passed the Emir of Quatar's super yacht Katara; what a sight if of course, you are into the ultimate in marine opulence. I hadn't been to Corfu since c1966 and found it a far cry from the rural island that I recalled. It now swarms with tourists and vehicles that drive too fast. However, the island possesses an outstanding rigger who made an excellent job of re-tuning our rig to give a noticeable improvement to our sail performance. In all, we spent a week in Gouvia and following our farewell to Ian and Judy, made south for Ormos Levkimmi in the south of Corfu. We went on to visit Paxoi island but couldn't find anchoring space so were forced to make for Ormis Pargas before continuing next for Preveza with its inland sea. A mark of this season's sailing was the frequent use of our 235m2 asymmetric spinnaker, in fact it was flown more often than all the previous seasons put together.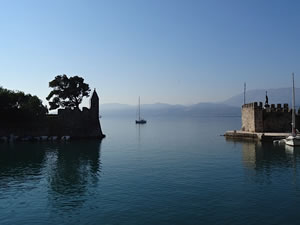 Navrakpas
Having transited south through the Levkos canal we made for Ormos Vlikho and then on to Ithica; we had had bigger plans for the Ionian but couldn't find sufficient anchorages other than tying stern-to the shore; one day we circum-navigated Ithica and trawled down the east coast of Cephalonia only to find our having to return to Vathi, Ithaca to anchor. In despair we abandoned the Ionian for Navrakpas; it has a small harbour that can accommodate much larger yachts than are encouraged, however we anchored outside the old entrance. It is a wonderful town full of historic interests with its castle and harbour wall embattlements. Furthermore, the local traders are welcoming and appreciative of ones trade. We whiled away a day before making for Galaxadi. In a gale of wind with the Simbo rig we flew up the Gulf of Corinth at 9 to 12 knots with a helpful following sea. On reaching the SW headland of the bay of Kolpos, we calmly came onto a reach with the release of the weather jib to leeward to make up the final 5 miles to Galaxidi.
This exhilerating sail was followed by an unsettled weather pattern which kept us on anchor-watch throughout the next day in 45 knots of wind tumbling down the 1200 metre mountain range to the west of the town. The whole boat was covered with flying spray despite being only 400 metres off the weather shore. Unbelievably, an Italian anchored with a similar sized yacht, took leave for a day's sightseeing whilst his yacht lay at the mercy of the weather. One lucky man!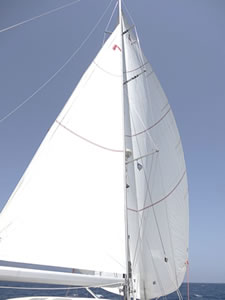 Simbo rig without poles in a gale of wind, Gulf of Corinth
After the storm, we sailed for the Corinth canal and returned to our anchorage at Palaion Kalamakion before making for Palaia Epidhavros (an absolute gem of a port with great restaurants, coffee shops and reasonable provisions) then Poros, Ormos Anavissou and onwards to the Olympic marina by Lavrion, to await the arrival of my son James and his partner Stacey. They were with us for a fortnight's cruise across the Aegean. We started with a sail to Nikolaouisle, Kea, another delightful anchorage with its shoreside tavernas before continuing south for Kythnos, Serifos and Sifnos. From there we had intended to cross over to Paros but because of a forecasted meltemi made for Ios.This avoided the meltemi but placed us in the path of a depression coming across from Sicily. We settled on the eastern anchorage of Tris Klisies which is surprisingly, rated as possessing poor holding; we found no such issues and were consoled to find that the local fishing fleet had also sought shelter in the bay.
Next port of call was Analipsi, Astipalia followed by Livadia,Tilos. Our north westerly winds gave ideal conditions for a lively broad reach to make light of the 50 miles per day sails. As a matter of good fortune, Tilos was organizing its annual feast to commemorate Agios Panteleimon. The celebration lasts for three days including food, wine and dancing. It is the biggest festival in Tilos and it takes place at the Monastery of Agios Panteleimon, the patron saint of the island. It is attended by nearly all the locals who welcome us visitors.
Our last sail with James and Stacey was across to Pedi. It had been a "toss up" as to whether Vathi,Sifnos or Pedi, Symi were our favourite ports of call from the previous season. However, I hadn't allowed for the height of the tourist season in my assessment! Both anchorages proved a nightmare, jammed to capacity with inexperienced yachting holiday makers who took any advice as a personal slight on their manhood if not their nation and when kindly advised that they were anchored too close or that they were dragging gave the rhetoric of a city cabbie!. What with the heat and the pressures of the charter season, we will not be sailing in the Med. in August again.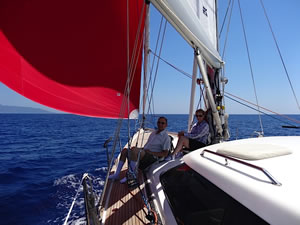 Hiding from the heat
After our guests returned to "Old Blighty", we checked back into Turkey at Datca and casually pottered around the coast to Fethye to recover from our fortnight's on-call hospitality! One of our best discoveries was the new marina at Ciflik developed by the adjoining hotel where on an agreement to eat at their charming outdoor restaurant overlooking the bay, one can moor free with wifi, power and water all included plus the use of their freshwater swimming pool. No brainer!
For the final week of the season, we collected Jan's mum Ann and Stepdad John from Gocek for a leisurely run down to Karacaoeran and then pass the seven capes to Kas. Thereafter it was on to Goekkaya Limini with its refreshingly cool under sea spring water. This is not only a relief for bathing when the outside ambient temperature is 40oC but also cools the hull for a more peaceful night's sleep. Our last port of call before the winter laying up process at Kemer, was Ceveviz which brought the curtain down on a successful 1700 miles cruise for the season and my 60th year of membership of the Royal Burnham Y.C..
Slides Show: click on any picture to start the show