An Aegean Cruise
Click here to view slide show.
With an IOM wedding to attend on the 1st August plus a need be back in Queenstown later that month, our season was confined to a mere three months. We returned to Kemer on the 28th April and set about the fitting-out process with a vengeance but try as we did, we couldn't get underway before the 11th May.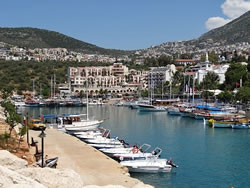 Kalkan
Our shake down sail was to Cerveviz fjord, a mere 15 miles south with its spectacular cliffs rising to some 600 metres, followed by a unexpectedly breezy 35 miles reach west to Gokkaya with its underwater cold springs; a pleasant relief in summer but a tad too cool in Spring when the snow still abounds the Turkish mountains. Next up was Kas which is a delightful town left by the Greeks during the ethnic cleansing of a hundred years past. We had intended calling in to the nearby port of Kalkan which despite its gullet fleet is available to yachtsmen but as we were to discover, not realistically for boats of our size.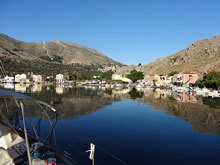 Pedi Harbour
We took advantage of a favourable SW3 wind to pass the Seven Capes to make the 35 miles for Karacaoeren by Olu Deniz, followed by a 55 miles Simbo rig run in 15/20 knots to Serce Limani. This placed us within a few miles of Symi, Greece. Spring is the best time to visit this popular island where anchoring in Pedi Harbour can become a challenge in high season. We were on a mission to press on north before the Meltemi winds established themselves and made for Knidos at the end of the Datca peninsular. From here it was a a day's sail around the NE of Kos and on up the W coast of the Bodrum peninsular to what we were to discover, is the very expensive marina of Palmarina; a seeming preserve of the superyacht.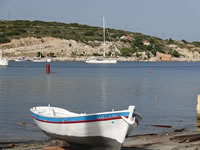 Pithagorian, Symos
Continuing north, we set sail for the isolated anchorage of Akbuek Limani in a fresh NW wind followed by a gentle reach along the coast to the delightful Greek village of Pithagorion, Samos which lays just a stone's throw off the Turkish coast. The village is totally reliant on tourism with a plethora of restaurants framing the harbour. Determined to keep on track we sailed to Evdhilos on the north shore of Ikaria. The harbour and its marina facilities have recently been greatly improved and with its 300 metre extension to the outer wall would provide decent shelter in a NW Meltemi, away from the katabatic blasts off the hilltops affecting the otherwise more peaceful looking south coast harbour of Kirikou.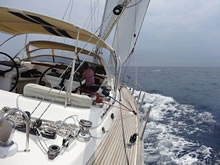 The Aegean
In variable winds we continued northwards for the standby ferry port of Khios island, Limani Meston O. Mesta which has had a fortune invested into a "state of the art" triple docking facility funded by the E.U. to the point of being an envy to any major European port. However, these facilities lay idle, looking completely forlorn at the head of an inlet of what was previously a forgotten hamlet boasting no more than a few inshore fishing boats and a couple of transport cafes. Having nothing more to offer us, we weighed anchor following morning for Nisos Oinoussa off the NE coast of Khios. The day heralded a downturn in the weather to give us a brisk sail in deteriorating conditions. What we thought would be a welcoming experience to an island hideaway, turned out to be a ghost town, reminiscent of an abandoned film set. Only in the evening did it start to make sense when the ferry from Khios disgorged its off-island work force to give the town some sign of life. We were confined to the boat however, as near gale force conditions had SotO snatching at the anchor throughout the night.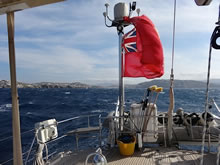 departing Mikonos
Next day in bleak, grey and windy conditions we had a blustery reach south under reefed main and jib to Cesme. We were intent on visiting the delightful old Greek town of Alicati, now a jewel in the Tukish tourist trail with its windmills, narrow ancient streets and outdoor bazaar with bountiful supply of fresh produce. We had decided to spend a couple of days in the marina under the castle walls that define this ancient town before setting sail under Simbo rig in 20 knots for Evdhilos,Ikaria. This then enabled us to strike out  across the Aegean for Mikonos. The passage to this renowned holiday island started gently in bright sunshine and blue skies but slowly deteriorated to near gale force conditions demanding heavily reefed sails. We made for the weather shore anchorage of O. Ornos thinking that not much could cause concern under the protective isthmus with our being only 400 metres off the shore. However, next morning in 35 knots of wind we were in no doubt that we would be better putting to sea for Kythnos which would place us to the west of the main force of the Meltemi.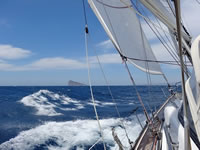 approaching Kythnos
The day as is often the case in these conditions, produced one of the most memorable sails of the season, a beam reach in 30-35 knots of N wind on our westerly course. Rounding the south of Kythnos however, was like entering a new day with little more than a modest wind to make up the west coast to the peaceful anchorage of O. Fikiadha under its protective sandy isthmus. Our next objective was Neorio, Poros off the Peloponnisos coast, a quiet little anchorage with a useful local store and a couple of restaurants. We didn't linger however, preferring to sail on for Epidhavros on the E coast of Peloponnisos, an ingratiating little harbour offering a classical Greek welcome from shopkeepers and cafes who welcome the passing trade of the cruising fraternity.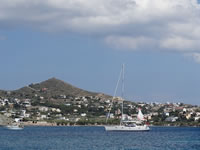 O. Galissas, Sounio
The winds and weather continued to be kind to leave the main demand for diesel to our generator. We had a fine reach around the south of Aigina and on eastward to O. Sounio under an imposing ancient headland temple. This left a short passage to make for the Olympic marina to stock-up at the better provisioned supermarkets before returning to the islands. From Lavrion, we sailed back to Kythnos to place us a comfortable day's sail to Siros which had caught our eye on the way over. Not only were we rewarded with another Simbo rig run in 15/20 knots but also a perfect anchorage in O. Galissas. Most yachts take advantage of the marina facilities but we prefer the peace and quiet of an anchorage. Two days later we were again running under the Simbo rig in 25/30 knots for Paros, a veritable pearl in the Aegean with its classical Greek architecture, narrow winding streets and charming shops and restaurants; it's also extremely well served by a fleet of ferries running throughout the day to link with other islands as well as Athens.
spinnaker run to Patmos
We had arranged to meet American friends whom we hadn't seen since c2013 in Alghero, Sardinia. In the interim they had sailed down the Red Sea and were now making plans to return to the States at the end of the year. With "carpe diem" in mind, we made around the N. of Naxos for Donousa, a veritable "Robinson Crusoe" of an island famous we were to discover, as a nudist colony. We didn't go ashore, settling instead for a wonderful 50 miles, 15 knots spinnaker reach to Patmos where our friends were moored to the main town quay. With our penchant for anchoring, we made for O. Groikou with its charming beachside village of Grikos. The main town of Ay. Fokas is only a ten minute taxi ride away which enabled us to spend time with Mark, Jennifer and their two dogs who had traveled with them across the Atlantic, around the Med, down the Red Sea and were now facing the prospect of another Atlantic crossing home. It's a dog's life, as they say!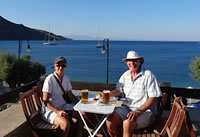 sundowners at Tilos
On bidding farewell, we made SE for Alindha, Leros followed by another Simbo rig run on a 25/30 knots squally, rainy day around the Bodrum peninsular for Akyarlar Limani, Turkey. I have to remark that the difference between the quiet conservative islands that comprise Greece and the modern opulent tourist resorts of Turkey are striking. I guess it's an age thing but the quieter resorts on the Greek islands tick our box but then the popularity of the modern Turkish resorts bear witness to the latter's success. We got underway early next day for the Greek island of Tilos laying some 30 miles to the south, another great day's sail on a 25 knots broad reach. The peace and tranquility of the town of Livadhia always thrills us and it was with some regret that a deteriorating weather forecast obliged us to sail on to Datca next day followed by a hasty retreat up the Hisaronue Koerfez in 30/35 knots, to the delightful anchorage of Kuyulu Br. just 2 1/2 miles NW of My marina.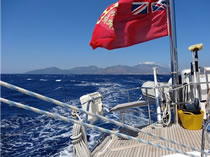 departing Datca
Having allowed the Meltemi to blow over, we sailed down to Symi to subsequently make for Gocek under another 50 miles Simbo rig run in a useful 15 knots. It has to be said that over the season we had almost covered as many miles under the Simbo rig as we had sailing on the wind in a wide variety of conditions in winds ranging from10 through 35 knots, with great efficiency and ease of handling. We were now into July and needing to plan our return to Kemer. We made for Karacaoeren where we had our first and possibly only run ashore to the local restaurant followed by Kas, then Gokkaya for the annual baptism in the cool underwater springs. Following this, one night at Finike marina with its fairly uninspiring town followed by an anchorage at Cavus Limani brought about the finale to a glorious season covering 1250 miles virtually all under sail.
With that we were once again into the laying up process at Kemer; a solid 12 hours a day for twelve consecutive days before relaxing on our flights through to the IOM. Then the long haul to Queenstown and the ski season.
Slides Show: click on any picture to start the show