A season for review - 2016
Click here to view slide show.
We had been considering sailing to the Adriatic with a view to laying-up in Montenegro. Our concern was that from the many yacht owners whom we had come across with Adriatic experience, not one had a good word to say about the Croatians whose country would have been the raison d'être for a change of venue.
However, if you don't go you don't know, so with that in mind we took time at the beginning of May to reconnoitre the facilities at Tivat. Our first impression was most favourable; the airport is only a ten minutes drive from the 5 star marina of Porto Montenegro with its splendid Regent Hotel and shoreside facilities surrounded by spectacular mountain scenery. Without a second thought we booked Song of the Ocean for the next winter's lay-up.
However on our return to Turkey, we realized that we had been too hasty as the lift-out with it's 5.5m width was insufficient for our 5.05m beam; maybe do-able in calm weather but with the slightest swell from weather or motorboats, it would be challenging. The problem was that we had pre-booked 4 nights at the Regent plus our return flight to London. A case of more haste less speed and a reminder in never basing a decision on what's best for oneself, only what's good for the boat!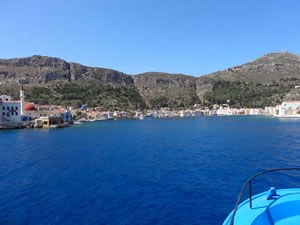 The first thing we noticed on arrival in Kemer was how quiet it was. This was as a result of Putin prohibiting Russian tourists from traveling to Turkey following the downing of one of their air force planes over the Turkish/Syrian border; all actions have consequences! Song of the Ocean though, was in fine fettle and after a couple of days was ready for launching. The re-commissioning as always, took ten days and with the time lost in Montenegro meant we were not able to make the shake-down sail to Cevervic until the 23rd May; this was followed by an unexpected 39 miles reach in F3/4 to Gokkoya Limani with its undersea cold springs, which was pleasingly devoid of Gullets.
On passing Kastellorizon next day on passage to Kas marina, we decided to make it our next port of call; in our enthusiasm to get into the season we had foregone this "jewel in the crown" in previous years but as we were under no pressure to meet with guests and keep a tight schedule we decided this was the year to break with that tradition.
On our arrival at Kas marina we were greeted with their effervescent welcome to which I should add that their marina pilots are the best we have ever come across and after asking permission to board, guide you to your berth and handle all the lines with pleasure and professionalism. This is in noticeable contrast to most other marinas we come across. We have been tempted to base ourselves in Kas with its first class lay-up yard and delightful adjacent town; however it does have the inconvenience of being a distance away from the international airports. We are also quite content with our arrangements with Kemer which is only a comfortable hour's reasonable taxi ride from Antalya airport.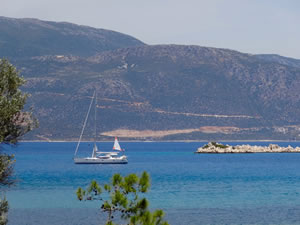 A couple of days later we slipped our lines to make the short crossing to Kastellerizon which not only lived up to best expectations but has since become one of our favourite Greek islands; something akin to the Scilly isles in England, another intriguing hideaway. We spent several days roaming the island with its wealth of history not only with the Turks but also during WW2; however its rich history stretches many thousands of years before that.
Next port of call required a tedious 45M motor-sail around the Turkish coast followed by a more exciting reach from Fethiye Bay to Pedi, Symi; we only anchored for the night though, as we wanted to make as much northing as possible before the onset of the Meltemi season. In a helpful westerly wind we made for Knidos at the end of the Datca peninsular, a splendid ancient natural harbour ruined only by the day tripping gullets who treat yachtsmen with contempt. We continued next day in a brisk NW wind for a 22M reach to Aspat Koya, a well sheltered little used bay just west of Bodrum. Following this and to capitalize on the continuing westerly wind we undertook a 32M reach to Kuruerik Bukua, a beautiful tranquil bay with majestic scenery to the east of Didim.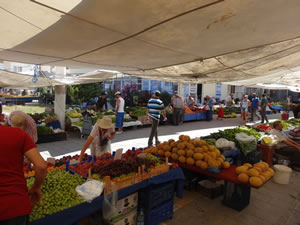 Our favorable weather however, was about to change and with the wind predicted to swing north we decided to turn south over the 18M for Port Iasos. This brought about the first Simbo rig run of the season in an exhilarating 25 knots. Port Iasos marina is well sheltered from everything baring a southerly blow and very reasonably priced which is a rarity in this part of Turkey! As a bonus we were also able to take advantage of their free ferry service across the estuary to Guelluek with its colourful street market providing an array of fresh produce that those who have never experienced a Turkish farmers market would never believe .
Following a stormy 24 hours, we set sail for a 40M beat to Xerokambos in the south of the Geek island of Leros, another well sheltered anchorage with local provisions. As the weather was becoming unsettled, we continued next day on a 44M reach for O. Panormos, a small uninhabited inlet on the NW peninsular of Astipalia. A point of note when sailing the Aegean is that the large scale charts and pilot plans of some of the islands are unreliable, necessitating caution when entering anything other than the most popular harbours and anchorages.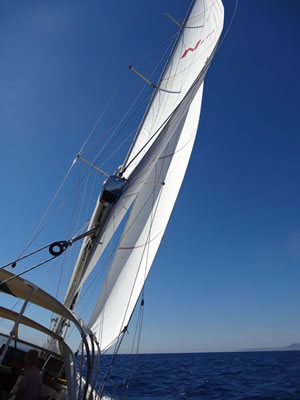 A depression was tracking towards the Peloponnese from Sicily, so we lost no time in making an early departure next day for Ios. So good was our progress in covering the 45M in a F4 SE reach that on arrival, we altered course for O.Neorio, Paros under Simbo rig to make a total sail for the day of 75M. This leg-up enabled us to relax in Naousa with its plethora of restaurants and good local provisions; in any event an excellent anchorage to see out the forthcoming weather system.
Three days later, we weighed anchor on a fine reach for the harbour of Foinika, Siros laying 25M to the NW, to place us in good position for the ongoing 30M reach west to our next anchorage at N.Ay Louka, Kythnos; not a place to linger but a good jumping-off port for the 50M passage to O.Neorio, Poros, off the Peloponnese. This has become an objective anchorage in recent seasons with its secluded bay and near by town. The wind had fallen light but rather than extend our stay for more than a day, we opted for a challenging sail in light airs to Epidhavros which lay 22M west around the peninsular of Khersonisos Methanon. This is another good anchorage for provisions, providing one can cope with its popularity with the western Aegean charter-sailors whose attitude can sometimes present a challenge although I am pleased to say, rarely with anglo saxon charterers.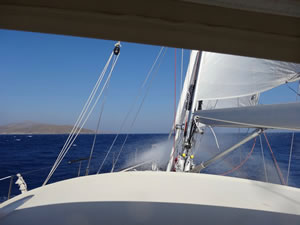 The weather continued light but rather than resort to motor-sailing, we undertook another patient sail back to Poros to await a fair wind. A bonus to this, was our being able to assess the narrow southern channel off the town, to make our departure for Serifos. This saves 10M off the passage and despite the shoal water with charter boats anchored off the quay to take into account, I was keen to depart Poros via this route. With the exception of one yacht which had entangled its anchor and straddled the channel, the passage passed without issue to lead to a strong reach across a lively sea over the 59M to O. Koutala, Serifos. On approaching its SW headland in 25kts of wind, we were overhauled by a super-fast Condor ferry from dead astern which made no attempt from even a mile off to adjust course and make its intentions known. I called them on VHF but to no response as they continued to bear down upon our stern to pass at 25 knots a mere 100m. to port between us and the headland which lay only 500m off; there were miles of sea room to starboard! It is a mistake in the Med. to assume that commercial ships other than those belonging to the Merchant Navy are competent and respectful of the international maritime laws. The fact is that the small island ferry boats display nothing but contempt for the yachtsman and apply a principal that "right gives way to might" and in any event, we shouldn't be "playing" on their patch!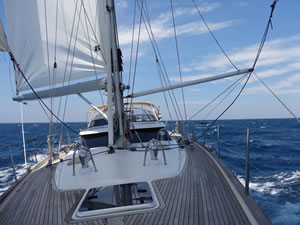 After a gusty night with katabatic winds bowling down the mountain side, we weighed anchor for Naousa, Paros, initially in boisterous conditions requiring reefed mainsail and jib to slowly subside over the 42M to a light wind to leave us to motor over the last 3M.  Following a day at anchor indulging once more in the delights of the town, we set sail for the 70M passage to Patmos; what a memorable day it turned out to be, initially with a 20kts reach followed by a Simbo rig run for the remainder. As with last season, we opted for the quaint anchorage of O. Grikoa with its peace and tranquility in preference to the busy stern-to moorings off the island's town harbour at Ay. Fokas.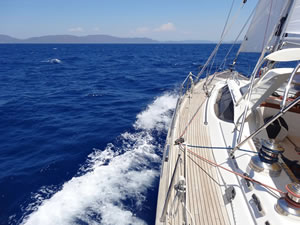 We weighed anchor next afternoon for the sleepy island of Leipsoi which being just 11M off, enabled us to sail along in the light airs. Our patience was well rewarded; the small town is a delight with good provisions and colourful harbourside restaurants. We could only stay the night though because the anchorage is not that protected and a Meltemi was bowling down the Aegean. We opted for a Simbo rig run over the 40M back to Port Iasos to take advantage once more of the Guelluek farmers' market. The only issue with this was that Port Iasos places you downwind of everywhere. In this case a 25M beat to weather to round the Bodrum peninsular followed by a relaxing 10M reach up to Aspat Koya to shelter from more strong weather. The Meltemi season was upon us!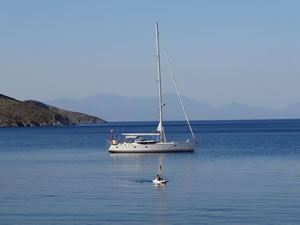 Next day with a helpful 25/30kts NW wind we made short work of the 20M to Knidos peninsular followed by a further 20M to the busy anchorage at Datca. This then placed us in good position to sail the 39M up the estuary in 30 knots following wind under the Simbo rig  to the tranquil haven of Kuyuki Buki.  This lays just 3M across the estuary from Marti Marina with its easy access to the fuel station and provisions. With the passing of the strong weather we returned for a leisurely 25M fine fetch down the estuary to Pedi, Greece; a silly 'call' on our part, as we spent the rest of the day warding off 'wooden tops' anchoring on top of us. I really should have known better as the same hassle  presented itself last season at this time. First thing following morning we beat a hasty retreat back to Kuyuki Buki to allow yet another Meltemi to pass through. This left us with a 35M sail to Tilos away from the madding crowd which seems to be too exposed an anchorage for many charter boats. Indeed we could only afford one night at anchor, because of another forecasted weather system and made following morning for Chalki off the NW coast of Rhodes; a simple 18M sail to a picturesque town with poor anchorage and exposed mini-marina facility which two nights earlier had suffered from a Meltemi with yachts ripping out most of the mooring cleats. We strapped SotO alongside the 'T' pontoon which enabled us to survive a gusty night unscathed but made haste in the morning for an unexpected splendid 35M Simbo rig run up the west coast of Rhodes island to round into their relatively new Rhodes town marina. This enabled us to take a "day out" to enjoy the delights of the old citadel.
The entrance to the new marina is obscure with it being tucked behind the old town harbour walls. It unfortunately suffers the full brunt of a meltemi as we were to discover when pinned overnight to a lee wall. This presented some difficulty in making our departure; however, this weather did lead to another 33M Simbo rig run in 25-30kts at full hull speed, surfing at 11.5 kts. On approaching Kurtoglu Br. we were confronted by a Turkish warship 5M off to starboard on a converging course; I called the ship repeatedly to request its intentions but to no avail; we were not only the sailing vessel but blasting downwind at full hull speed with our booms prevented in a big running sea and respectfully requested with our restricted maneuverability and limited crew, if the ship could make a slight alteration to pass under our stern. Our repeated requests on VHF Ch.16 were totally ignored and the ship proceeded to cross our bow not 300m off, its only concession being to substantially increase its speed on belatedly realizing that there was a potential issue. The lack of concern for the international maritime laws of the sea in times of peace, appears to have no bearing when it comes to the sailing yacht which as I have already stated, apart from the ocean going Merchant Navy, treat us with contempt.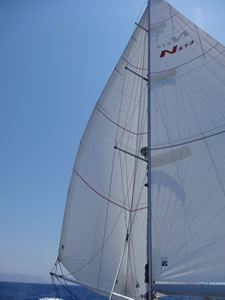 We reached the remaining 9M up the coast to Round Bay just south of Gocek to spend the weekend agonizing over whether to abandon our plans to lay up in Turkey and beat a hasty retreat to Greece as a result of the emerging political situation unfolding around us; a difficult decision particularly as we run a very tight agenda involving prearranged commitments in the UK, Colorado and NZ which would be difficult other than in a totally cataclysmic circumstance, to re-arrange. Our decision borne out of a lifetime's experience abroad, was to to continue with our original prepaid lay-up and make for Kemer.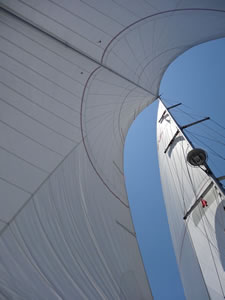 Our next port of call involved a relaxing broad reach SE around 50M of the Turkish coast back to the Greek island of Kastellorizon; after such a convivial visit in May, we were surprised and not a little perturbed, to find the harbour in an atmosphere of anxiety with Greek Army personnel and Navy ships plus additional Greek Coastguard vessels in a state of high alert as a result of the failed Turkish coup. Anchored off the harbour we were pounced upon that night by a customs vessel flooding us with their searchlights whilst seated in the cockpit without a word of explanation let alone apology. Whatever their issue, we wanted no part of it and weighed anchor next morning for the sanctuary of Turkey. Our port of refuge was the cold spring waters of Gokkoya Limini which although busier than last Spring was still quieter than usual. This was followed by a 30M reach across Finike Bay to Cavus Koyu in the SW of Antalya Bay to leave just 20M for our return to Kemer and bring down the curtain on another wonderful season with a total log of 1253M.
There was no sign of political unrest or civil disorder in Kemer; the town continued its daily business as normal and we are satisfied that that is how we shall find it on our return next year.
Slide Show: click on any picture to start the show