The Inner Foresail and Staysail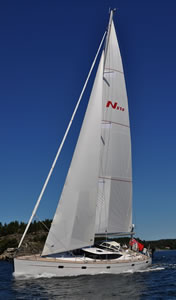 Hard Wind Jib
A demerit of the furling forestay is that once the jib or genoa has been furled, it occupies the slot required for a heavy weather jib.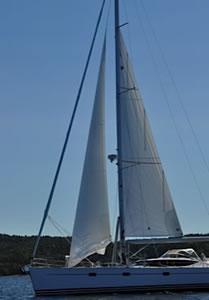 Reefed Hard Wind Jib
My answer to the problem is to set a hard wind jib on a mobile inner forestay with a line of reefing pennants. This can take over from the remaining 70% of furled jib to provide a replacement headsail of some 50% of the original sail area which can then be reefed to 35% without loosing shape or drive.
My reefing system emanates from a desire to limit time spent on the foredeck to a minimum.
I snapshackle a permanently spliced luff reef pennant to the tack. I then run a spliced leech reef pennant down through the clew to pull the sheets up to the reefing eye and make off. This avoids having to re-tie the sheets and also gathers up the abandoned leech as well as the clew. When not in use, the pennant stows down the leech under a velcro flap.
Finally, I tie off three colour coded reefing pennants to gather up the sail's discarded foot, harden up the halyard and return to the cockpit.