Yachting World
Below is the complete Y.W article (Oct 2013) with the Features Editor's commentary followed by my response.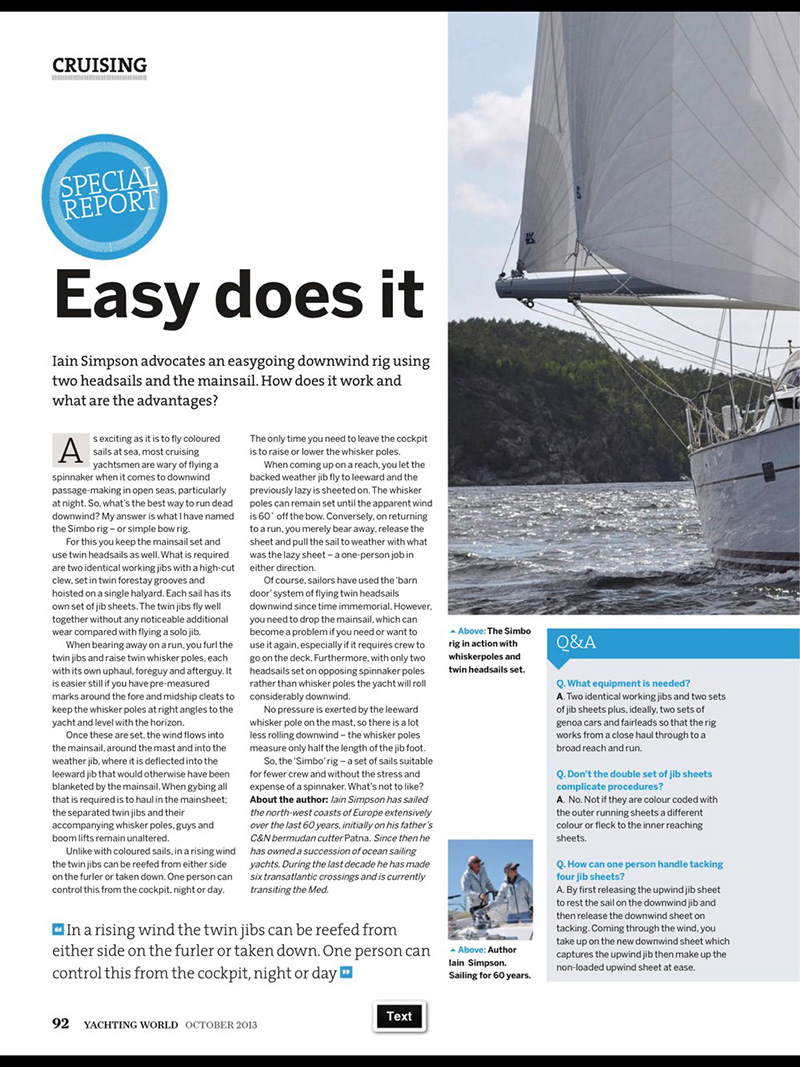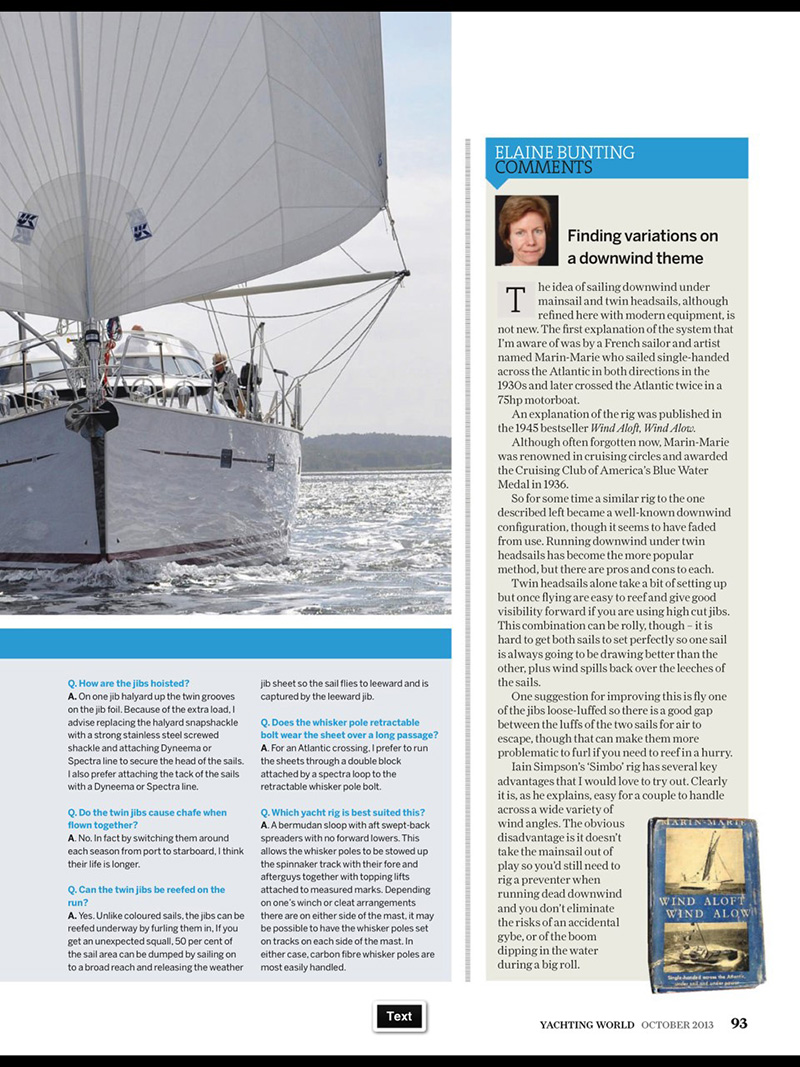 Following my article on the Simbo Rig in Yachting World October 2013, (above) to which the then Editor, David Glenn acclaimed "What's not to like!", Elaine Bunting attached a condescending commentary in which she based her assumptions on it having been previously flown by Marin Marie on his Atlantic crossing in the 1930s and published in his book "Wind Aloft, Wind Alow".
Neither myself who has sailed offshore extensively since c1950 nor my parents for that matter who were prolific cruising sailors during the 1930s and several decades thereafter, ever happened across, heard off or read in any yachting publication a rig that remotely resembled the Simbo Rig until the advent of the Dutchmar Zoom Boom in recent years. Yachting Monthly published a glowing endorsement of Elvstrom's Blue Water Runner c2017 followed by both Y.M. and Y.W. posting prominent photographs of the start of the Golden Globe race c2018 which although not Simbo Rigs, did emphasise the benefits of flying twin headsails in tandem downwind.
Be that as it may, after the publication of Elaine Bunting's article I acquired a copy of Marin Marie's book "Wind Aloft, Wind Alow" to find that Elaine had misrepresented the facts. Elaine subsequently acknowledged the oversight and offered to post an apology in a subsequent Yachting World which I declined because I had no wish to cause embarrassment. In preference, I accepted her further offer to place an article on the Simbo Rig on the Yachting World's website. This I did in the knowledge that it was unlikely to attract much attention.
Following the death of my sister from Covid 19 though, It has occurred to me that after I have sailed away to "heavenly cruising grounds" and Elaine Bunting has retired, people might refer to her seemingly unchallenged article when researching the Simbo Rig and erroneously accept her publication as fact. As a result, I have felt beholden to display the Y.W. article in full with Elaine Bunting's commentary for the first time, plus a corresponding correction to consign the facts to posterity:-
1) It is not correct that a similar rig to the Simbo Rig became well known in the past but has subsequently faded from use. The Simbo Rig only became a realistic possibility with the relatively recent advent of foil-furling headsails which incorporated dual luff grooves up which to hoist twin headsails on a single halyard.
2) It is also incorrect to state that the first explanation of a Simbo Rig was by Marin Marie in his book "Wind Aloft, Wind Alow". There has been no such recording of the Simbo Rig prior to c2002 when I developed it for an Atlantic crossing.
3) Marin Marie set double jibs downwind without an accompanying mainsail, not as an exclusive downwind rig but as a means of self steering. In that respect he could be accorded with having been one of the pioneers of a self-steering system. He completed the whole of his downwind Atlantic crossing without setting the mainsail or manually steering the yacht.
4) It is not true to state that Marin Marie sailed his yachts across the Atlantic in the 1930s in both directions. He only sailed his sailing yacht from east to west following which he had the boat shipped back to France. A couple of years later, he had his motor-yacht shipped out to America in order to motor sail it back to France. This was a wonderful accomplishment but the facts are that he only made the one Atlantic crossing with each yacht.
5) It was an error of judgement to refer to Marin Marie's book incorrectly and emphasise the undeniable validity of her statements by attaching a copy of the book as indisputable evidence. Hence the necessity of my now being obliged to post a correction. Certainly not a matter which I have undertaken lightly after 7 years, or with any sense of satisfaction. In fact, I am very disappointed that it should have become necessary.
6) Elaine's alternative option of setting twin headsails without the mainsail, for running downwind not only sets up an intolerable roll but scandalises ones working rig when needing to immediately return upwind to recover a MOB or suddenly avoid a collision with a semi submerged object such as a whale or container unit. The same concern could apply to flying coloured sails.
7) To imply that it is a benefit to dispense with ones mainsail is a curious statement, bearing in mind that it is the very foundation of a yacht's sailing rig around which one builds a complement of headsails to meet the sailing conditions and ones personal requirements. That is surely why it is called the main sail. In addition to this, it cannot be more laborious to rig a mainboom preventer than spinnaker or whisker poles and that's before one considers the demands of setting & striking coloured sails or bespoke downwind rigs from the foredeck.The separated twin jibs of the Simbo Rig on the other hand, are reefed, struck or returned to a reach, all from the security of the cockpit.
8) As the word implies, a mainsail's preventer is there to safely deal with a potential accidental gybe and if one is concerned about handling it on a foredeck then its control can be run back to the security of the cockpit. In respect of separating the twin jibs for running downwind under Simbo Rig, that can also be accomplished from the security of the cockpit without the use of whisker poles.
It is unfortunate that Elaine Bunting has not followed up her apparent 'love to try out' the Simbo Rig which I should have been only too pleased to have accommodated. This would have proven unlike the flying of two headsails downwind in isolation, how minimal is the likelihood of dipping the Simbo Rig's mainboom into the sea. This is because the leeward whisker pole carries little or no load with it being blanketed by the mainsail and acquiring its pressure from the redirected wind off the weather jib.This pleasurably translates into a negligible degree of rolling.