15th July - 19th July 2007
Staying in Woolverstone Marina to have a few of the electrical problems looked at and waiting for a suitable window in the weather to make a move Southwards to Ramsgate.
Woolverstone Marina is a delightful location in the very pretty River Orwell. It is owned and run by MDL Marinas who in general are not the most popular organisation, due largely to their high charges! However, in contrast to so many South Coast marinas which are populated either by charter boats or expensive but rarely used craft, this site is full of boats that are clearly used and loved by their owners. We were made to feel very welcome by everyone we came across and it easy to see why some friends (Robert and Joyce) are so happy to have this as their home mooring.
Weather has stayed constantly against us leaving so far, but there now appears to be a window opening on Thursday with the promise of the wind going round to the North East and blowing up to Force 6 or possibly more, which would be great. So...
Left Woolverstone at 11 pm (in a flat calm) and motored our way carefully down the River Orwell, which to my mind has rather vague and haphazard lights. On past Felixstowe container port and the huge ships being loaded and unloaded under the glare of thousands of bright lights. Put paid to the night vision for a while!
A light breeze got up and helped us out of the harbour and through the shipping lanes and South across the Thames estuary. Dawn broke around 4.00 am and brought us clear blue skies and killed off the last of the breeze. So we motored on past the busy entrance to Dover (5 people swimming the channel today, so they are warning all the traffic in the shipping lanes to be aware as they are nearly halfway across by 8.00 am)
It was just as we approached Dungeness at around 9.00 am that today's electrical problem struck. The chart plotter which provides the satellite navigation, radar and AIS etc. switched itself off. Helpfully it then turned itself back on, but had lost all route information (as computers do) and needed us to turn back on the radar etc. It could have been worse as this might have happened a little while earlier as we approached Dover, so relief there. Unfortunately, it repeated this trick every 10 minutes. A call from the helpful Raymarine man (Dave Freeman) in Southampton resulted in his diagnosis of a faulty power pack, although coming from Cornwall he used a rather more graphic description.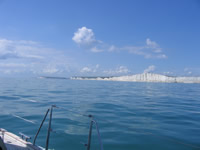 Seven Sisters
At 1.30 pm I went to have a sleep and the chart plotter, being a machine with more intelligence than we thought, realised that being alone and misbehaving with Sarah in charge was a poor career move and so it fixed itself and performed perfectly for the rest of the trip!
Beachy Head came and went, still no sign of the promised NE wind, never mind a strong blow. Then as we reached Selsey Bill around 8.00 pm the strangest cloud formation we have seen appeared from the South. As it got close, Sarah very wisely decided that it did not bode well and so we dropped the sails. 10 minutes later, the gentle 5 knot breeze that we had, changed into a 35 knot blast whipping the wave tops across the boat. This was backed up by very heavy rain (for any readers in Worcester, this description can probably be downgraded to a light drizzle by your new standards) and although the wind dropped away the rain accompanied us for the next few hours as we made our damp way into the Solent and up to the River Hamble.
Swung into our usual berth in Hamble Point Marina and it was at the point where we entered the berth that the increased size of this new boat was most apparent to us. 11.30 pm sat down to a bit of supper and then rolled gratefully into bed.

Click here for a full interactive map
Friday 20th July
Woken around 9.00 am by Mike Jennings of Najad, whose office is at this same marina, as he was keen to get the professionals organised and working on our problems. At 6.30 pm we decided to go back to Worcester for the weekend and set off in the car. Big mistake of course and although we did well to get to Gloucester by around 1.00 am we realised that the only option was to head back to the boat (arrived back at 3.15 am). The flooding was unbelievable and when we went into Gloucester (M5 was closed both ways) we found quite extraordinary scenes, including on the opposite side of the dual carriageway, a full car crash, involving lorries, vans, cars etc. which blocked the road, but not a single person to be seen. Everyone had gone away and left the chaos as clearly no recovery was possible at that time.

---
That then brings us to the end of this particular journey and we both hope that you all have enjoyed this light journal of our trip. For the benefit of Sarah's parents, amongst others, we will continue to log any proper trips we do this summer, but the real fun should start next May when we hope to set off down to The Med, via Spain and Portugal.
Please email or text us (07909 971 443) whenever you want, but please do not bother to correct the spelling or grammar etc. thank you!
Rob & Sarah

Click here to return to the index