We relaunched Serafina after her long summer storage at Spice iland Marine, Grenada and made our way north through the eastern Caribbean chain of islands.
We visited Union Island, Bequia, St Lucia, Martinique, Dominica, Guadeloupe, Antigua, St Martin, St Barts, Anguilla, St Kitts, the British Virgin Islands (including Anegada) and the US Virgin Islands.
Then in May 2012 we set off north to the USA and arrived a full 14 days later (read the blog for the details (!) in Norfolk, Virginia. from there we went into the Chesapeake Bay and cruised up the Potomac to Washingto DC where were able to anchor in the very heart of the capital, barely half a mile from the White House.
From there we went to Annapolis and via the Delaware River and Cape May, we headed back into the Atlantic and sailed north again to Block Island passing New York which we left for later in the season.
Next was Jamestown, Rhode Island after which we moved on to Cape Cod and Boston. We had a great week in Boston before heading further north to Maine where we had a wonderful three weeks and took oart in arally organised by the Ocean Cruising Club of which we are members.
As August drew to a close, we sailed south to Rhode Island and had the good fotune to come across dozens of whales, mostly Fin Whales, three of which surfaced within 30 feet of us!
Next was New York (Sept 2012) and from there we headed back to the Chesapeake and Annapolis where we laid up Serafina for the winter and flew home to see old friends and family once more after an absence this time of some 11 months.
Serafina is presently ashore at Herrington North Boatyard, Annapolis, MA. where she avoided the worst of hurricane Sandy.
If you have any advice, help or comments to make, please feel free to contact us.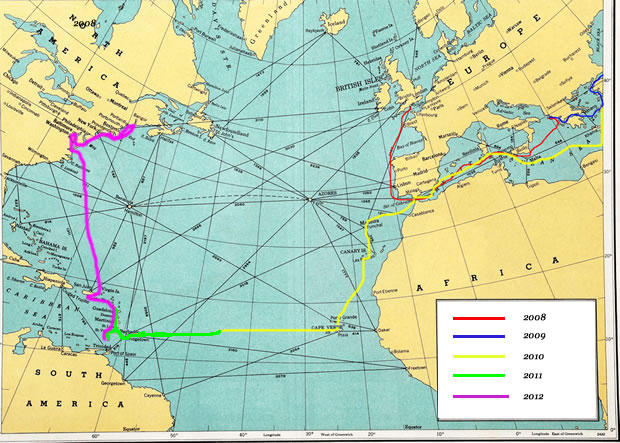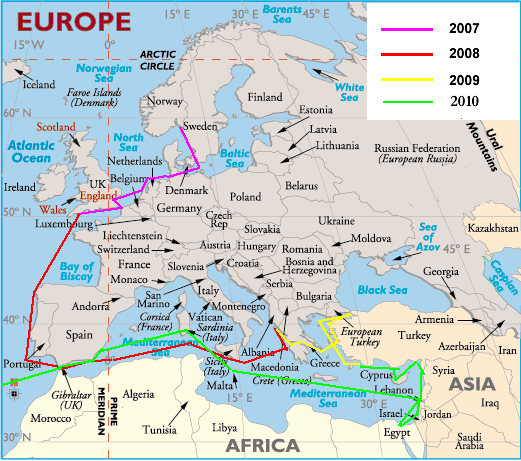 | | |
| --- | --- |
| | We are members of the Ocean Cruising Club and would recommend that you visit their informative website. |
Feel free to use the Google search facility below to find further information about other topics:
Custom Search